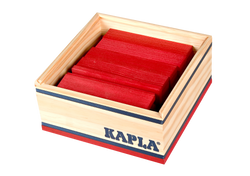 Imperfect KAPLA 40 SQUARES RED
A wooden case containing 40 coloured planks. To bring even more colour into your creations.

The following colours are available:
Light Blue, Dark Blue, Red, Orange, Yellow, Green, Purple, Pink
Dimensions: 7.8x16.5x16.5
Weight: 1kg
Our toys travel to us from far and wide, and sometimes get knocked and bumped on the way.
This set has a dint on one side of the box. It is still shrink wrapped and the parts are fine. Due to this tiny flaw it is therefore sold with a small price reduction.  The crack does not affect the play value of the toys.
Reduced items cannot be exchanged or returned.