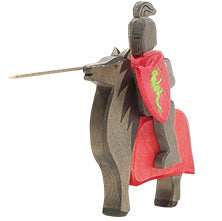 Crafted with care, this enchanting toy embodies the timeless appeal of classic children's stories and fables. The Black Knight and his loyal steed come to life in a meticulously designed wooden figure that captures the essence of adventure and bravery. This whimsical creation pays homage to beloved tales while inviting children to embark on their own imaginative quests. With intricate detailing and a touch of nostalgia, our Black Knight with Horse toy transcends generations, making it a cherished keepsake that resonates with fans of popular children's literature.

Ostheimer Toys & Accessories

As manufacturer of high quality toys and accessories, Ostheimer's work is always focused on the children who will play with the products. Toys entirely made by hand in Germany using wood from sustainable sources of forestry. The surfaces of the wood are left raw without sealant paints or varnishes, using only watercolour and organic oils gives the children the possibility to experience the vitality of the wood with all their senses.

Made of wood from sustainable forests, these decorations are lovingly crafted and finished with organic oils and no harsh paints, so that they are robust, kinder to the environment and long-lasting.

Each toy is a unique lovingly hand-carved object, painted with gentle watercolours that accentuate the grain of the wood, giving every animal an individuality and personality that your child would love to play with.

Set the scene for your child's imaginary world with these beautifully carved and coloured pieces.

All materials used in our toys are certified. They guarantee not only toys of the highest quality but also safety for your child at play.

Product Details

Height: Approx. 22cm

WARNING: CHOKING HAZARD – Toy contains small parts. Not for children under 3 years of age.