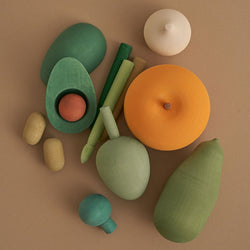 Raduga Grez
Imperfect Veggies vol 2
Our toys travel to us from far and wide, but sometimes get knocked and bumped on the way.
The external canvas packaging has some stains and markings. The markings do not affect the play value of the toys.The rest is perfectly fine.
Reduced items cannot be exchanged or returned.
A set of wooden vegetables including: zucchini, garlic, pumpkin, broccoli, artichoke, olives, asparagus and avocado.
Helps to teach proper nutrition in a playful way.
Perfect to complete the Vegetable set as well as the fruit sets.

Hand-made and dyed using non-toxic water-based dyes and left unlaсquered.
Includes: 8 wooden vegetables figures
Material: lime wood, dyed with non-toxic watercolours, without lacquer
Recommended for children 3+ who are no longer teething/mouthing their toys