Have you ever wondered what this CE logo means?
CE stands for Conformité Européenne. 
This small CE logo has substantial value to the manufacturers, and helps consumers make an informed decision.
In Europe, many products need CE marking before they're allowed to be on the market.
CE marking is heavily regulated in Europe, and stands for quality assurance for the consumer.
This marking indicates the products meet safety, health and environmental protection requirements. This protects you, the end user.
This creates trust between us and the brands. European toy manufacturers work hard to ensure the toys comply with the requirements, this means regular testing and assessments by CE representatives.
-------------------------------
So you can be sure the toys we carry are the finest and top quality.
The CE marking is a binding conformity marking that indicates that a product complies with the harmonisation regulations of the European Union. It is just the visible consequence of the entire conformity assessment process, without being an abbreviation itself. It must therefore be viewed as a kind of "figurative mark". The CE mark or CE mark Here are the most important features of the CE mark (CE mark):
The CE mark always has the following typeface: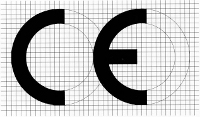 CE mark If the CE marking is reduced or enlarged, the proportions given in the grid shown above must be adhered to. If necessary, it is supplemented by an identification number of a notified body that is involved.
The CE mark is always affixed by the manufacturer - clearly visible, legible and permanent on the product or the product nameplate. If this is not possible, it can also be attached to the packaging or the accompanying documents.
The CE mark is intended purely as an official mark; it is intended to indicate to the control authorities that all CE directives relevant to the product have been complied with.
The CE mark must be affixed, or it may not be affixed - it is not a voluntary marking!
Note: Do not get it confused for the "China Export" logo. For more information, refer to this link: https://www.safetyaction.com.au/blog/chinese-made-ce-mark
Source: https://www.ce-richtlinien.eu/